Khabib Nurmagomedov took to Instagram early Monday morning to state that it appears he won't be able to fight in the main event of UFC 249 vs. Tony Ferguson on April 18 because of the travel restrictions associated with the coronavirus pandemic.
He's stuck in Russia.
Incredibly, this matchup might fall through for the fifth time.
Nurmagomedov also said he heard the UFC is looking for a replacement. ESPN's Ariel Helwani reported that Ferguson's camp has been offered a fight against Justin Gaethje.
Is that the right fight to make?
Should an interim title be at stake?
And what about Khabib's future? The devout Muslim won't fight during Ramadan, which is April 23-May 23 this year. And he would like 45 days after Ramadan — during which he fasts 15 hours per day — before he begins training.
Conor McGregor kept saying he would step in if the fight fell through. But that was before the pandemic, and McGregor is now leading the fight in Ireland to shut down the country while promoting social distancing.
Brett Okamoto, Marc Raimondi and Jeff Wagenheim address all of these topics.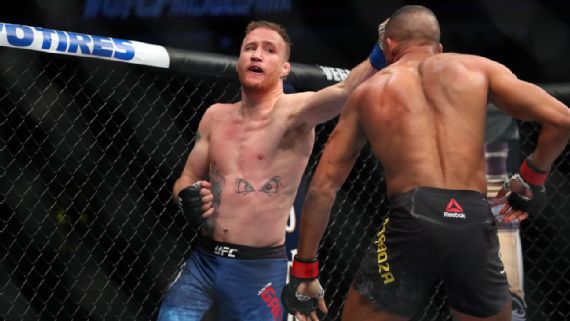 Who steps in if Khabib is out?
Okamoto: Gaethje is the obvious choice. He's the next lightweight up, according to the rankings. Gaethje has a history of not accepting short-notice fights, though, and one has to wonder where his weight is, with less than three weeks to go. With the way the UFC is throwing its full commitment behind this "The show must go on" mentality, it feels like any and every option is on the table. At a time like this, in which the company is scrambling to put on an event and has a limited roster to draw from, matchmaking could end up turning to a "Who's available?" question more than a "Which fight is the best?" question.
Raimondi: Gaethje reportedly has been offered to Ferguson's camp, but we don't know whether Ferguson has agreed to it and the logistics are unclear. There isn't a location set yet. And it's hard to predict what the world will look like during this pandemic in three weeks when UFC 249 is scheduled to go off. President Donald Trump said Sunday that the social distancing guidelines will continue until April 30. That would be two weeks after the event is scheduled. In some states and cities, they aren't recommendations — they are enforceable regulations.
Wagenheim: If his fifth booking with Nurmagomedov falls apart, Ferguson should just stay at home and get ready for booking No. 6 in the fall. That championship fight should remain intact. Where does a hastily booked fight with Gaethje get him? Nowhere.
What about Conor?
Okamoto: He's been loudly advocating for people to stay at home, so, it would be odd to see him catch a flight to fight Ferguson. At this point, it literally seems like anything is possible though. Again, with the UFC adamantly saying fights will go on and athletes always looking to get paid, fights will inevitably come together. But McGregor? Under these circumstances? I'd say highly unlikely at best. And as far as the rest of the year for McGregor, it's very up in the air. If Nurmagomedov vs. Ferguson is pushed back, that changes the entire time frame of the 155-pound division. Ultimately, I think we'll see McGregor fight one more time in 2020, and I still think it will be against the winner of Nurmagomedov and Ferguson.
Raimondi: I'm sure under any other circumstances, McGregor would happily step in and fight Ferguson for an interim title or a boatload of money. Or both. But there is no fighter on the planet who has been more vocal about social distancing and abiding by government guidelines during this coronavirus outbreak than McGregor. Over the weekend, the former UFC two-division champ called upon the Irish military to enforce some of the rules preventing large gatherings and people leaving their homes for nonessential activities. McGregor seems like someone who would not be in play here, given the stance he has taken on COVID-19 response. The deeper question is what happens if Nurmagomedov indeed does not fight. Does the UFC push hard for Nurmagomedov's next title to be the rematch against McGregor? It doesn't seem out of the question.
Wagenheim: "Any less than full adherence to these newly-put-forth methods by any member of our society," McGregor said in a video posted to Facebook last week, "will not only be a mockery to what we are attempting to do, it would put the rest of our great nation in danger." So cross "The Notorious" off any list of potential UFC 249 saviors. Once we're beyond the pandemic, there will be good, challenging fights for Conor, and because he's Conor, those fights need not be for a championship to be lucrative for the UFC. So an early-fall booking against a fellow top contender at lightweight or even welterweight sounds like a good first step.
What's Khabib's future?
Okamoto: Ferguson. Whenever and wherever it can finally take place. That's the fight he wants.
Raimondi: If he truly does not fight April 18, then we won't see Nurmagomedov until the fall, most likely. Nurmagomedov won't fight until at least 45 days after Ramadan, which ends May 23. That typically means he doesn't even want to start a training camp until 45 days past the Muslim holy month. Perhaps the UFC can persuade him to come back a bit sooner. But it seems like September — when he fought last year — is a good guess. The one thing I don't want to see is Nurmagomedov getting blamed for this if it doesn't go down April 18. He was training in California when the state enacted a stay-at-home order. So, wisely, he left there and ultimately traveled home to Dagestan. At least there he could be with his family during this strange time. Several travel bans in Russia and elsewhere have messed with his plans. There was no doubt Nurmagomedov was working extremely hard for this fight. If it doesn't happen, it won't be the champ's fault.
Wagenheim: Here's hoping the month of Ramadan brings the Nurmagomedov family peace and introspection. Then, after recovering from the fasting, Khabib will be refreshed as he prepares for a title defense in the fall. And his challenger — Ferguson, one would hope — will be refreshed and fully prepared as well. That's the way it should be in a championship bout. When the best fight the best, they should be at their best.
Should Tony Ferguson fight a replacement or wait it out?
Okamoto: It depends entirely on money and what Ferguson wants. The Nurmagomedov fight is a massive one, obviously. And it comes with massive upside. What if he wins? He'll be the champion of the UFC's most popular division. He'd be set up for a fight against McGregor, or a Nurmagomedov rematch. He'd suddenly be at the center of the biggest fights the UFC can make — a place he's always been stuck on the outside looking in at. But at the same time, he has a family to support. If the UFC is willing to make it worth his while to fight someone like Gaethje on April 18, and that payday is worth it to him to accept that risk, then he should do it.
Raimondi: There are surely fighters who will take the fight against Ferguson. But will Ferguson accept anyone? It wouldn't really make sense for him — it should be the title or bust. Ferguson has already beaten everyone he needed to beat to get a title shot, and then some. He has won 12 in a row and hasn't lost since 2012. And where is this whole thing going to happen? Too many variables to know for sure. There's no doubting Ferguson's mentality. He is a fighter's fighter. There are also finances to consider. This would likely be a big payday for Ferguson, who has not fought since last June. Again, fighters don't get paid unless they fight. So, it's going to be a very difficult decision for him if the fight card does go on as planned. If UFC 249 happens and something attractive is offered — perhaps Gaethje and more money — I wouldn't bet against Ferguson doing it.
Wagenheim: Nurmagomedov vs. Ferguson was the fight to make when it first was booked five years ago. It was the fight to make in each of its four subsequent bookings. And it will be the fight to make come fall. Ferguson wants to be champion, and you're not The Man until you beat The Man.
Should an interim title be attached to any replacement bout?
Okamoto: That'd be weird, right? Ferguson vs. Gaethje (or some other lightweight) for an interim title … because the undefeated champion is stuck in a quarantine in Russia? I mean, the only reason I'd be in favor of it is that it would suggest the winner will be guaranteed to fight Nurmagomedov next and McGregor couldn't jump the line. But I don't know. The creation of an interim title is usually because (A) it helps sell the fight or (B) the champion has been inactive for so long the division needs to keep moving, but neither of those really applies here, given the circumstances.
Raimondi: No, although I'd understand if they went in that direction. Interim titles aren't worth much anyway. How many times have we seen a fighter win an interim title and then not be next in line for the shot at the undisputed champion? It happened to Ferguson, who is vocally not a fan of interim titles. Maybe interim belts get fighters a slightly higher purse the night of the fight. So, in that way it could be used to lure someone into a fight on April 18 against Ferguson without a real training camp. With the current regulations and guidelines, it's doubtful anyone not already in some semblance of a training camp would be in the midst of hard training. Just about every gym is closed. Even fighters who are preparing for a fight are having to do it piecemeal.
Wagenheim: No way. I've got no use for interim belts in general. If a champion cannot defend a belt for whatever reason within a reasonable time span — within one year of his or her last defense, I'd say — then the UFC should put the belt, the real belt, up for grabs, with the old champ getting first dibs on a shot at earning it back upon a return to fighting. There is only one UFC lightweight champ; his name is Khabib Nurmagomedov, and we should accept no substitutes.
Source:https://t.ly/xdqOq